In Rehearsal Now – The 2012 Archives
As 2012 comes to an end, I am on the beautiful Oregon coast, having just sung with a wonderful children's choir. I look forward to posting the video one day, we did a very special piece that I will always remember.
December 2012 – "Gift of Music" with a Delightful Children's Choir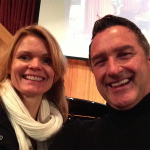 Sarah Barten and I, along with local children are accompanied by Eric Simpson as we rehearse for our December 16th performance at the Salishan Spa and Golf Resort on the Oregon coast. The event is co-sponsored by the Siletz Bay Music Festival. In addition to our vocal performances, storytelling and renditions of holiday standards on Harp, the concert will conclude with good old fashioned sing along! For more about this event simply visit Gift of Music on Toast to the Coast. Ok, it's back to brushing up on everything from "White Christmas" to "It's the Most Wonderful Time of the Year!"
December 2012 – Sneak Peak at our First Gershwin Rehearsal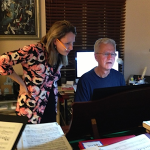 Susannah Mars and Charlie Creasy, first rehearsal of, "Oh Those Gershwin Boys – George & His Lovely Wife Ira" at Charlie's studio in Palm Springs, CA. This promises to be a heart-warming show and nostalgic romp through the legendary Gershwin song-book. Creating a new show like this is always a treat for me. Sure there are long hours of rehearsal and, oh, the memorization of new arrangements and banter! When all is said and done, however, the resulting performance is always a gift! Check back for a look inside our Gershwin rehearsals as we prepare for the upcoming show. Show dates to be announced in late January or early February.
May 2012 – Comden & Green in Palm Desert, CA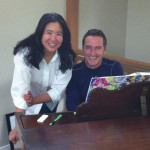 This is me and the beautiful Elaine Wang Meyerhoffer as we rehearse "A Party with Betty Comden and Adolph Green" in Palo Alto, CA. We were preparing for a series of three performances in May 2012, under the Musical Direction of Charlie Creasy. Jack Moore devised and directed this show.
Any time Elaine and I have an opportunity to perform this "comic thrill-ride through the music and lyrics of Comden & Green" we just smile… It's that much fun!
More to Come in the Archives
Thank you for exploring the Rehearsal Archives. Do check back, we are bound to add MORE to the archives as time allows! There are so many wonderful photos show and stories to tell.
2013 Archive – In Rehearsal Now – More about "It's Better with a Baritone!" & "Oh, Those Gershwin Boys!"
Or you can… Return to the HOME Page.