In Rehearsal Now – The 2013 Archives
As 2013 comes to a close, Ron Spivak and I are still in bi-coastal rehearsal for my new fundraising show, "It's Better with a Baritone!" As you will see, earlier in the action-packed year, it was all Gershwin, Gershwin, Gershwin! Take a look…
October 2013 – The New Fundraising Show is Going Strong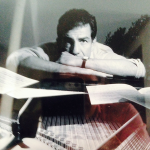 Wow! It has been an intense couple months of rehearsals and travel! "It's Better With a Baritone!" is on it's feet and I look forward to sharing more pictures with you very soon! Michael Valenti is pictured here at his piano. It has been an absolute pleasure to work with him on this project. Michael has awards, including an Emmy and a Peabody, and has composed, performed, recorded and conducted his way through an impressive resume. His catalog includes shows performed at some of the most prestigious theaters, and ranges from Broadway to orchestral and opera, and from chamber to concert band and television, and so much more. "It's Better With a Baritone!" is an exciting project and it's made even more of a treat in working with such a talented artist.
October 2013 – Fundraising… "It's Better With a Baritone!"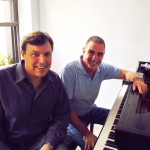 It's early October and last Monday, in New York City was an incredibly memorable rehearsal. At the piano is award winning Broadway composer, Michael Valenti, and Baritone Ron Spivak. Michael has composed an original opening number with a lyric by Ron Spivak for our new show "It's Better With a Baritone!" In addition, Ron, who performs with me in this show, and I will sing two numbers from Michael's Off-Broadway musical "Lovesong." This new fundraising revue will open in Palm Desert at a private event on December 13, 2013 and it has already been programmed as the fundraising show at the Siletz Bay Music Festival in Gleneden Beach, OR in July 2014. Stay tuned for all the upcoming details as rehearsals progress.
June 2013 – Coming Home to Lewis & Clark College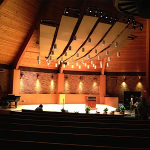 Wow, does it feel good to be on stage at my alma mater. The Agnes Flanagan Chapel at Lewis and Clark College in Portland, Oregon is stunning. Their pipe organ hangs suspended in the apex of the venue in the company of the beautiful stained glass windows which encircle the top. I'll post a picture of that on another day. In the meantime, this is she stage in the Agnes Flanagan Chapel where we'll be performing "Oh, Those Gershwin Boys!" on Sunday, June 9th, 2013. What a treat to be back in the room where I sang so many times in college. Proof that you CAN come home again!
May 2013 – Collaborators Finally Under the Same Roof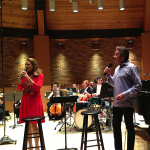 Amazing! We are all finally under the same roof! Considering the fact that while rehearsing "Oh, Those Gershwin Boys!" each of us lived in different states, this is quite the treat! Thank goodness for technology and great recording devices! At this point, it's about 10 days before the concert on June 9th and the acoustics of the room are our biggest challenge. This wonderful space has quite a bit of reverberation and not designed for the amplified voice. Given my personal history with this beautiful space, it's all good! You can see that we have the Portland Chamber Orchestra on stage with us (partially shown here), and Maestro Yaki Bergman is just out of the frame.
May 2013 – New Idea for Fundraising Show Opens Soon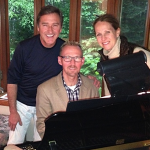 Our pianist Rick Modin has joined us in Portland for the home stretch of rehearsals here in town. Rick is an incredible musician and we are excited to have him with us for all of the performances! This photo was taken as we rehearsed in Susannah's home. As far as I'm concerned, the perfect spot to put some of the finishing touches on the show! Wow! Can you believe we open in less than a week! Yep, "Oh, Those Gershwin Boys!" has its debut on June 2nd, 2013 at the Harold Schnitzer Fundraising Gala, followed by the Portland Chamber Orchestra benefit at Jimmy Mak's on Monday, June 3rd.
May 2013 – New Gershwin Revue on "The Score" in Portland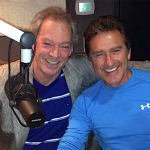 Maestro Yaacov Bergman, Susannah Mars and I were recently interviewed by Portland's own Edmund Stone. The Score, a great show found on Public Radio's 89.9 FM, is produced in the studios of All Classical FM in Portland, OR. The Score is a "weekly celebration symphonic music in film, a fascinating cultural adventure through America's best-loved art form. Movies are your listeners' most common musical experience and a gateway to classical music." And then there's Edmund's accent! It should air in late June 2013. I'll keep you posted as soon as we have an air date!
May 2013 – Keeping Rehearsals Light is Easy with a Great Team!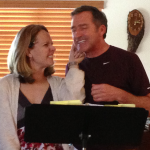 The arrangements, the lyrics, the transitions and patter… Looks like the hours of rehearsal might be getting to us! Nah! We can take the pressure. This has been quite the rehearsal schedule. As is typical leading up to the debut of a new show, I've been away from home-base more often than not. Each show brings with it its own set of challenges, opportunities and delights. It is always a pleasure to work with Susannah Mars and Charlie Creasy; these rehearsals have continued in that light. Sure, we may get a little "cheeky" on occasion, however, it is all in good fun! We look forward to having "Oh Those Gershwin Boys!" on stage in June!
April 2013 – Spirit of Collaboration in New Gershwin Revue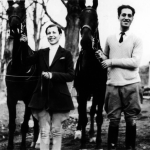 Our current show re-lives the Gershwin legacy through the eyes of George's brother Ira, and good friend/collaborator Kay Swift. Born in 1897, Swift was an American composer who trained at The Julliard School in classical music and composition when it was the Institute of Musical Art. Before Swift met Gershwin in 1925, she was an elitist re. classical music. It seems Gershwin urged her toward a more popular vein. In 1930, Swift scored Fine and Dandy; the first woman with the distinction of scoring a full musical. She is also known for arranging several of George's pieces after his passing; including "Sleepless Night" in 1946.
March 2013 – New Gershwin Fundraising Dates Added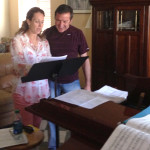 It's March 2013. Gershwin rehearsals continue as Susannah Mars and I diligently rehearse Charlie Creasy's arrangements. Dates are scheduled for the Siletz Bay Music Festival in June and the show is coming along beautifully. What an honor it is to collaborate with such a talented group of artists create this show.
We just added a Upcoming Performance Calendar to the website and it shows all dates for this show and others. I'd love for you to take a look!
Photo Credit – Richard Bentley
February 2013 – Gershwin: Next Great Fundraising Idea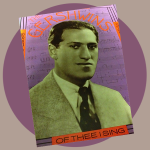 George and Ira Gershwin have a collaborative history that crosses all musical divides from popular, classical and jazz… to film scores. What a perfect pair to build a show around. Now that we're into the New Year, I'm in rehearsal regularly with Susannah Mars and Charlie Creasy at Charlie's studio in Palm Springs, CA.
As our new show begins to take shape I will continue to add to this page, so please check back! And if you have an idea for a show you would like me to develop for your fundraiser or benefit… Please be in touch!
Explore the Archives – In Rehearsal Now
2012 Archive – In Rehearsal Now – More about "A Party with Betty Comden and Adolph Green"