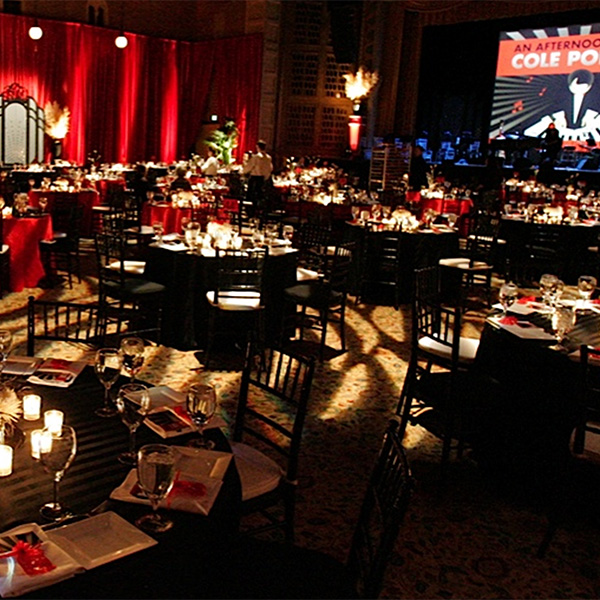 Such an elegant afternoon! Arlene and Harold Schnitzer created an over-the-top event transforming Kridel Ballroom into a nostalgic 1940's supper club. The packed ballroom of nearly 400 patrons was full of Portland's glitterati. It was truly THE spring society event.
It was a marvelous Sunday afternoon and nearly $250,000 was raised for the Harold Schnitzer Diabetes Health Center at Oregon Health & Science University and for the Portland Chamber Orchestra.
Fundraising Entertainment at it's Most Elegant
Even though the Kridel Grand ballroom is a massive room, we were able to work with fewer musicians than you might expect and performed this show with an orchestra of 20 musicians. Professional sound works wonders in any size space.
An Afternoon with Cole Porter
May 1, 2011 The Portland Art Museum Kridel Grand Ballroom Portland, Oregon
The Schnitzer's have given tirelessly providing free care for Oregonians dealing with diabetes. Sadly, Harold passed away on April 27th 2011, just 5 days before the event. Harold and Arlene heard this Cole Porter show in Eden Hall in Gleneden Beach the previous summer and loved the show so much, they wanted to create a joint benefit for the Schnitzer Diabetes Health Center and the Portland Chamber Orchestra (PCO). Arlene's sister, June Nagel played with the PCO many times from its inception in 1947 and June's son later became its concertmaster. It was an honor to be a part of this exquisite event.
Photo Credits – Deep gratitude for the event photos provided by photographers: Tim Gunther.