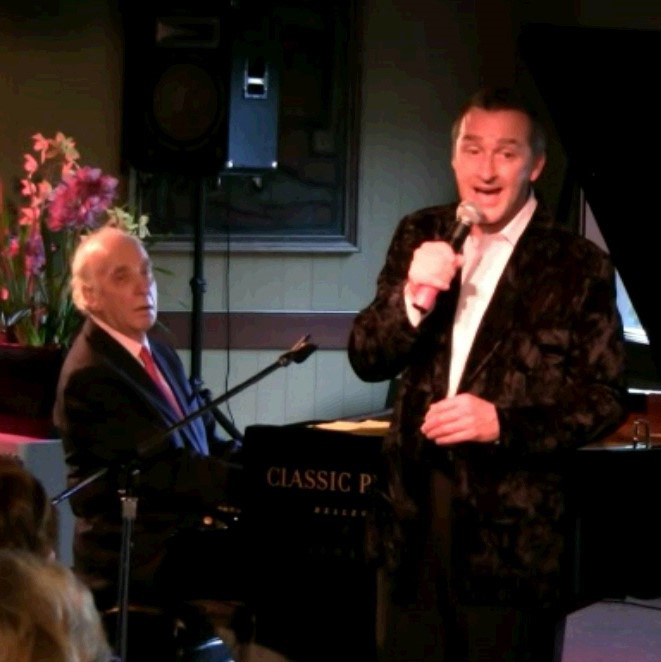 This is a fun and musically challenging program showcasing the music and lyrics of some of America's best composers and lyricists: George and Ira Gershwin, Kurt Weill, Maxwell Anderson, Mark Blitzstein, Vernon Duke, Rudolph Friml and the show concludes with much loved, Leonard Bernstein.
My good friend, Jack Moore from Palm Springs California devised and directed this show. The photos of this show, performed for the Artist's Showcase at the conclusion of the Siletz Bay Music Festival, were taken at Salishan Spa and Golf Resort on the beautiful Central Oregon Coast.
I happily opened this concert for famed jazz impresario, Dick Hyman.  A couple photos below show an impromptu take on Cole Porter's, "I Get A Kick Out Of You."
From Opera House and Concert Hall to Broadway
Featuring songs from an illustrious group of composers who wrote for all three venues, opera house, concert hall and Broadway. This is a show for an astute and sophisticated audience and it is humorous and fun!The composers and lyricists who did it all! This show has arrangements for trio, piano, stand up bass, drums and can be performed in an intimate venue or a larger performance space. Remember the music is big enough to handle a concert hall!
June 23, 2011 Artist's Showcase "From Opera House and Concert Hall to Broadway"
Siletz Bay Music Festival, Lincoln City OR
Want to know what was REALLY going on behind the scenes and in the time leading up to this performance? You might be surprised! More photos and insight at Opera to Broadway – The Rest of the Story.
Photo Credits – Gratitude and appreciation for Rudy Salci, Videography/Video Stills featured in this gallery of images. And to Bob Gibson, Photographer, for the photo at the top of this page.