About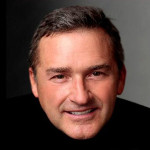 Through my performances, it is my intention to be a part of raising 1 million dollars through the development and performance of small-venue cabarets, lush, fully orchestrated shows, and other musical entertainment tailored specifically to charity events. To date my performances have raised over $825,000… A great start! What can I do for YOUR wonderful cause? ~ Rocky
About Rocky
Lyric baritone, Rocky Blumhagen was born in Walla Walla, Washington and raised across the Oregon state line in Milton-Freewater.
Even more than a cabaret performer, Big Band singer and symphony soloist, Rocky has won two acting awards and a number of nominations for his live performances. He received his BA in vocal performance from Lewis and Clark College, in Portland, Oregon. Rocky then sang professionally in the US, Germany, the United Kingdom and Canada; giving over 1500 nightclub performances and recording three albums.
Rocky continues to create exciting musical programs and revues that are as unique as they are entertaining, all while pursuing acting roles in the Bay Area.
Resume Highlights
COMMERCIAL RADIO… Rocky transitioned to a career in commercial radio in Portland, spending fifteen years in advertising, sales and management at KGW, KINK and KKSN am/fm. As station manager of KGON/KNRK, Rocky launched the popular "94/7fm" an alternative rock station still going strong today.
BACK TO HIS FIRST LOVE… Realizing his first love, he returned to his singing roots, performing for several years in the Palm Springs area including his own cabaret shows, Musical Chairs concerts, the Coachella Valley Symphony and the Stover All Star Big Band shows at the Annenberg Theatre, plus multiple theatrical acting roles.
More details can be found on Rocky's Backstory.
View Rocky's Calendar of Upcoming Shows and Performance Archive.