"Oh, Those Gershwin Boys" – New Fundraising Idea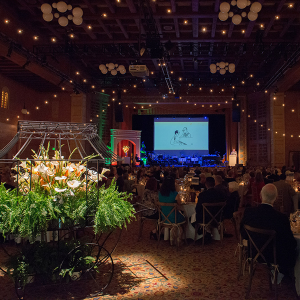 Portland's philanthropic bar was raised yet again at this year at Portland's Spring 2013 Society Event. It was the place to see and be seen. Arlene Schnitzer again transformed the Kridel Ballroom and set the stage for a gala extraordinaire to benefit the  Harold Schnitzer Diabetes Health Center at Oregon Health & Science University, and for the Portland Chamber Orchestra. It was a magical evening.
The room was a veritable "Who's Who," and drew close to 400 generous patrons from around the country, many of whom flew to Portland especially for the event. True to form, Arlene Schnitzer outdid herself. Smiles shone and funds successfully flowed in as the evening unfolded. It was a beautiful evening, full of heart and humor.
New Fundraising Show Off to a Great Start
Once "Oh, Those Gershwin Boys!" opened at the Schnitzer Fundraising Gala, it then went on to several additional fundraising events throughout the summer of 2013 including the Siletz Bay Music Festival and a memorable performance at Rocky's Alma Mater, Lewis and Clark. "Oh, Those Gershwin Boys! is still available for events anywhere a plane will fly!
"Oh, Those Gershwin Boys!" Makes a Splash in Portland
June 2, 2013 The Portland Art Museum Kridel Grand Ballroom Portland, Oregon
Arlene Schnitzer, and her late husband Harold Schnitzer, have given generously through the years to provide free care for Oregonians dealing with diabetes.  It is always a deep honor to be a part of such a wonderful event; and a special treat when it is done by Arlene! read MORE about "Oh, Those Gershwin Boys!"
Photo Credits – Deep gratitude for the event photos provided by photographers: Dale Perry.