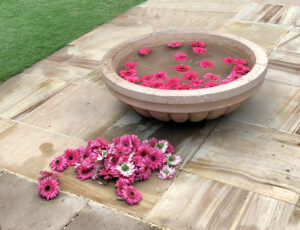 Day 800 is scarred with the memory of the mass shooting in Uvalde Texas, a small southwestern border town.
Nineteen… ten and eleven year old fourth graders were murdered along with their two classroom teachers. The 18 year old gunman shot dead. 12 more children are wounded, and countless more with emotional scars that may last a lifetime.
.
This is Only Happening in America
As I type these words, I feel numb after the hundreds of mass shootings America has experienced. How can I be numb to this? Because they happen so frequently? The massacre at Robb Elementary was the 30th shooting at a K-12 American school in just the first five months of 2022. This is only happening in America. If this had happened 20 years ago, Americans would have been horrified, we would have talked of nothing else for days.
We were practicing yoga, day 799 while the carnage was happening. I had played a current song by Justin Michael Williams called Broken Mirrors. The lyric deals with "a shattering world, a world of digital perfection where your self-image cannot measure up. A sense that truth is a lie, that there is a brokenness inside and they can no longer hide."
We are living in a seeming "menacing world" and as yogis we are searching for healing paths. Searching for ways to heal the suffering we see all around us.
Original Plans Changed – Some Forever
I originally planned to write about our DCI Yoga cohort as we marked this 800 day milestone and I will. First, I'd like to pause a moment and be with the gravity of this. Acknowledge these children and adults… by name.
Jose Flores, 10
Jackie Cazares, 9
Annabelle Rodriguez, 10
Makenna Lee Elrod, 10
Eliahna "Ellie" Garcia, 9
Uziyah Garcia, 10
Amerie Jo Garza, 10
Xavier Lopez, 10
Tess Marie Mata, 10
Maranda Gail Mathis, 11
Maite Yuleana Rodriguez, 10
Alexandria Aniyah Rubio, 10
Layla Salazar, 10
Jailah Silguero, 10
Eliahana Torres, 10
Rojelio Torres, 10
Nevaeh Alyssa Bravo, 10
Jayce Carmelo Luevanos, 10
Alithia Haven Ramirez, 10
Eva Mireles, 44
Irma Garcia, 48
Gone. Families. friends, and community changed forever.
Our Practice Continued
As we marked this 800 day of Kundalini Yoga, we focused the rest of the week working this same sequence for lungs, magnetic field, and preparation for deep meditation. We spent more time in reflection and contemplation as we all dealt with the aftermath of yet another school shooting.
In keeping with my original plans, I'd like to mention the names and locations of our 16 dedicated practitioners meeting on their mats virtually, some of us five days a week since March 15, 2020. We range in life, 54 to 75 years, median age, 68. Kundalini Yoga has been a safe practice to work through body issues, emotional change, and Covid challenges. We continue to learn resilience as we move through life.
Susan A – Greenwich CT
Frish B – San Francisco CA
Susan C – Foster City CA
Mimi D – Rhinebeck NY
Sarah E – Boston MA & Palo Alto CA
Anne-Lindsay M – Palo Alto CA, Sagaponack NY, & London
Melanie K – Sonoma & Palo Alto CA
Jack K – Rhinebeck NY
Margaret L – Seattle WA & Stanford CA
Janet M – San Francisco & Sonoma CA
Pablo R – Madrid, Spain
Anita R – Newport RI & Charlotte VT
Carol S – Carmel CA
Rodney T – Portland OR & Palm Springs CA
Mireya V – Madrid Spain
Rocky B – San Francisco CA & Gleneden Beach OR
Occasionally:
Jason H – Laguna Beach CA
Laura P – Seattle WA
Eric S – Carmel CA
Dave E – Boston MA
The Challenges and Promise of a Long-Term Practice
Over the last two years, two practitioners had accidental falls requiring surgery and we've experienced and supported each other through the loss of a parent and siblings. Covid had its own challenges of isolation, however, our virtual connection helped us maintain equanimity as we explored this new way of being in the world. We also recognize we have privilege, not having to worry about employment income or making ends meet during the pandemic.
The practice of Kundalini Yoga works well for our cohort. Initially it leveled the playing field bringing various ages and ranges of flexibility, strength, and balance to the group experience.
As we grow older we lose three primary areas of agility; strength, flexibility and balance. Yoga naturally works all these agility aspects plus we add breathwork, mindfulness and contemplation to the mix. I frequently say, "we are in the most efficient hour of the day." What can we do in just one hour that touches on so many aspects of our human condition?
We have the opportunity to sit quietly, observe our minds, emotions, and greater consciousness. We often sense a mental clearing after working alternate nostril breath, nadi shodhana pranayama. We also practice breath of fire, bhastrika breath, a quick fast inhale and exhale through the nose of course.
What a Practice Can Bring Over Time
Observations from two of our regular practitioners:
"Yoga has been for me the true connection with my physical and emotional body. I have learned step by step, like in a kindergarten, to move, to feel my soma, to pray with it. It is a journey where body, breath, meditation, emotions, sing in unison to make soul, to make emotional body. Grateful for your generosity Rocky." – Mireya V., Madrid Spain
"Coming home. Our DCI Yoga practice is a lot like coming home. It calls me to be present, returning to my internal 'home' to help me get/stay in touch with my body, mind and spirit. It also feels like home as I join together with my friends and fellow yogis to share and support each other on multiple levels, and in ways that are sometimes difficult to articulate, but are felt deeply. Rocky's commitment inspires me daily and I am so grateful to be on this 1000 day journey with him as my guide. Sat Nam." – Carol B-S, Carmel, CA
Onward to 1000 Days of Yoga
Here we are…day 800 on our 1000 Day Yoga Journey. The Gobinday Mukunday chant speaks about creation. Being one with the infinite, the liberator, the destroyer, the nameless, the giver, the desireless, the creator.
The destroyer manifest in Uvalde Texas yesterday. How we comprehend such loss is for each of us to contemplate. May our practice offer us compassion for all those affected by this horrific shooting. Compassion for the thousands of victims of mass shootings since Columbine High School in 2012 and for the innocent yet to die from gun violence in America.
I will continue to ask how can each of us may contribute to make the world a safer and more equitable place? How does our individual consciousness impact our communities for the greater good?
Sat Nam
Purpose. Community. Wellness.
Rocky Blumhagen, Stanford DCI, (Distinguished Career's Institute, Fellow/partner Class of 2019) is a yoga and mindfulness practitioner.
To read more about Rocky's 1000-Day Yoga Challenge – Click Here
To learn more about Rocky – Click Here
If you wish to discuss your own yoga journey to develop a deeper daily practice, please be in touch. Rocky is available for private consultation.