A Birthday Gala Celebration in Hong Kong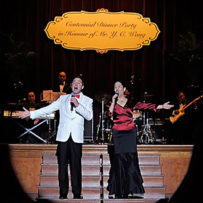 International Gala at Hong Kong Grand Hyatt Hong Kong
December 30th, 2010 will always be a memorable evening in my life. My good friend and fellow singer, Elaine Wang Meyerhoffer asked if I would join her in Hong Kong to celebrate in concert her Grandfather, wealthy Chinese textile tycoon, Mr. Y.C. Wang celebrate his 100th birthday.
It sounded like a once in a lifetime opportunity.  I knew Mr. Wang loved music and even had selected repertoire he hoped Elaine would have performed at his gala evening for 220 guests at the Grand Hyatt in Hong Kong.
My partner Rich and I flew in a few days early to spend Christmas with her lovely parents, Jimmy and Lucy Wang and her fun brother and his charming wife, Rick and Lisa Wang whom all live in Shanghai.  Elaine traveled with her accompanist Richard Bentley, both from Palm Springs California in advance of our trip where they gave a classical recital at the coveted Shanghai Conservatory of Music.
Once in a Lifetime Event at a Stunning Venue
After Christmas we all flew to Hong Kong to get ready for the performance.  An eight-piece Filipino orchestra would be our back-up and we were to meet at a recording studio to rehearse our show.  About an hour into the rehearsal, the orchestra leader took a call, at the end of the conversation I heard him say, "Mr. Wang, everything is under control."
A Birthday Celebration to Remember
100 Years Young and at Still His Office Every Day
It was Mr. Wang, at 100 years old calling from his office to see how the rehearsal was coming along.  He still went to his office daily in the financial district and the night of the party greeted everyone.  He barely had a wrinkle in his face, perfectly tanned and so perfectly coiffed in his customary dark blue suit (he never wore black!).  By the way I had white and black tuxedos made in Shanghai at the Dongjiadu textile market.  Elaine's, Aunt Carolina navigated the many vendor stalls and took me to one of their favorite tailors, and in 48 hours I had two beautiful custom tuxedos at a fraction of the cost at home and beautifully made garments.
A Entertaining Gala Full of Memories
My fondest memory was at the end of the evening, nearly all of the guests had departed and the dance floor was full of his progeny, dancing the night away.  His driver was there to take him home and he was in the lobby saying more good byes and he heard the music playing and asked to be taken back into the Grand Ballroom.  Upon arriving he shook his fists in the air ala the movie, "Rocky," it was an enduring image I will always remember.  May I have that much vigor for life if I live to be a centenarian!
A Footnote on a Gracious Man
Y.C. Wang passed away April 23, 2012.  He was in his 102nd year.  One other musing; when he toasted everyone at the party he reminded them that he had invited everyone to his 10th celebration at his 90th birthday and he extended that same toast to his 110th.  His intention was to live to 110 I have no doubt.
See Rocky & Elaine in Action – "A Party with Betty Comden and Adolph Green"
Read More About – Comden & Green Fundraising Entertainment