Baritones at Jimmy Mak's to Support PCO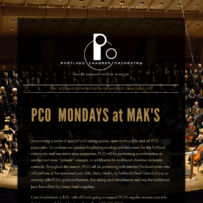 "It's Better with a Baritone" is thrilled to be a part of PCO MONDAYS at MAK's! PCO Mondays at Mak's is a series of special fundraising events in support of the Portland Chamber Orchestra. The events are open to the public and help the PCO continue their passion for sharing both new and exciting works with music lovers in and around Portland.
Monday, June 30, 2014 at 6:30pm at Jimmy Mak's, Ron Spivak and I will perform selections from "It's Better with a Baritone" with Rick Modlin on piano. Doors open at 5:30pm. If you have not yet been, Jimmy Mak's is a wonderful and intimate venue, and I'm really looking forward to the event!
A Few Tidbits About the PCO – Portland Chamber Orchestra
The Portland Chamber Orchestra was founded by Boris Sirpo in 1947. A Finnish composer and conductor who left his war-torn native country and came to Portland. Initially, the orchestra was comprised of his students at Lewis and Clark College, however, through it's commitment to quality performances and innovative repertoire, it has grown into a mighty force, and now stands as one of our nation's oldest and highly-respected chamber orchestras.
Since 2002, Maestro Yaacov Bergman has held the baton, and with his direction, the PCO has brought its distinct sound to Premiere works and fusion performances that encompass a wide range of artistic expression. The PCO has been lauded as "the most ambitious" arts organization in Portland by Willamette Week's annual Finder edition. I have to agree!
About the PCO, the quote goes on to say: "Punching way above its weight, under music director Yaacov Bergman, PCO has lately been the city's most innovative orchestra, combining music with visual arts, poetry, theater, even science and sex."
Baritones Lend a Fundraising Hand – Monday, June 30, 2014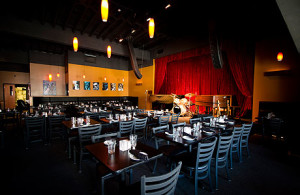 Ron Spivak, the "East Coast Baritone" in our dynamic duo, and I are very excited about our part in supporting this musical treasure. In the PCO, Portland really has quite the gem. PCO Monday at Mak's gives locals an enjoyable way to play their part by lending modest financial support via a $25 ticket in exchange for a wonderful evening of music at the legendary Jimmy Mak's!
I would LOVE for you to join us on Monday, June 30, 2014 at 6:30pm at Jimmy Mak's in Portland. Call 503-771-3250 for tickets, buy tickets online, or join us at the last minute via tickets at the door. Keep in mind, we have sold out in years past! Doors open at 5:30pm.
I look forward to seeing faces of those I know in addition to many new ones… Please come up and say hi after the show!  ~ Rocky
Portland Chamber Orchestra
PCO Events Online 
Call for Tickets: 503-771-3250
Buy Tickets Online Now: Click here 
Jimmy Mak's 
221 NW 10th Ave – Portland, Oregon
Between Davis and Everett
Jimmy Mak's Website
Photo Credit: A special thank you to Esquire online for the use of the photo from their article about Jimmy Mak's – "Jimmy Mak's is an undeniable palace of jazz excellence and retro style." Feel free to check out Esquire online!