Yogi Bhajan — Harbhajan Singh Khalsa 8/26/1929 – 10/6/2004
Yogi Bhajan introduced the practice of Kundalini Yoga to the US in 1969 where he established an ashram in Los Angeles. He was active here in the USA and Internationally for the next thirty plus years.
One of his former devotees, Pamela Sahara Dyson released a self-published memoir in January, 2020. Premka: White Bird in a Golden Cage: My Life with Yogi Bhajan.
I read Pamela Sahara Dyson's memoir soon after the release. Much of her story is devastating. I believe Ms. Dyson to be an honest and credible witness of her life living and working within the Kundalini Yoga community Yogi Bhajan created. Ms. Dyson describes sexual abuse committed by Bhajan and other abusive practices, facilitated by the Kundalini organizations he founded and its members. In response to these allegations, a third-party investigation was conducted; paid for by the organization Bhajan founded 3HO, that describes additional testimonies of sexual abuse.
CLICK HERE to View the 3rd Party Investigation – Trigger Warning re sexual abuse.
I have practiced Yoga for nearly thirty years. Mostly Hatha and Vinyasa based practices. I am not a member of the Sikh religion nor do I consider myself to be a "devotee" of Kundalini Yoga.
I have completed two teacher trainings in the Hatha Yoga tradition and one Kundalini Yoga teacher training. In addition, I have attended many interactive workshops in various disciplines; restorative, hands-on assists, alignment, breath work and chanting.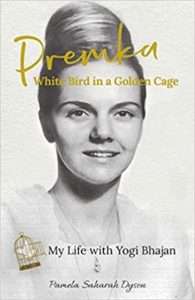 Personally, I find the practice of Kundalini Yoga to be the most complete Yoga experience I have ever studied. The Kriyas (sequences of postures and breath work) draw upon Asana/movement, Pranayama/breath work, Chanting/singing, Mudra/hand placement and Chakra/subtle body work.
I have found this multi-disciplinary approach to Yoga I experience as healing, grounding and ultimately creating a sense of equanimity like no other past yoga practice. When I practice Kundalini Yoga, I experience my inner-self so quickly, the state of Pratyahara, the fifth limb of Patanjali's eight limbs of yoga.
I am still processing what I have read in Ms. Dyson's book and in the report referenced above. At this point in my life as a Kundalini Yoga teacher, I am trying to separate the practice of Kundalini Yoga from the man who introduced the practice. As I continue to process these revelations, I will be sure to add to this on-going, unfolding and changing document. Sat Nam.
Rocky Blumhagen – 9-17-2020
If you have questions, I encourage you to read her book, Premka: White Bird in a Golden Cage: My Life with Yogi Bhajan. It is available via many online book distributors and via Amazon.