Very excited to let everyone know what a successful run we had with the Frank Sinatra tribute, My Way, at Cinnabar Theater in Petaluma. We rounded out the 14 show run in great form and had sold-out houses at every show. Even added an unscheduled matinee to the run. Here are a couple of the local takes on the production.
I spent an enjoyable Saturday afternoon immersed in the musical world of Frank Sinatra, courtesy of Cinnabar Theater. Four fine performers backed by a live trio deliver a significant number of Sinatra's greatest hits from the American standard canon. Organized and given connectivity by David Grapes and Todd Olson, "My Way: a Musical Tribute to Frank Sinatra" regales us with classic tunes spanning Sinatra's five-decade career, as well as dipping into some lesser-known tunes from the 1300+ songs he recorded.
There's no celebrity impersonation in this revue, which I was grateful for– too often those turn out cringe-worthy, suffering comparison with our glowing memory of the real personage. Instead, four talented vocalists– Carolyn Bacon, Rocky Blumhagen, Desiree Goyette-Bogas, and Mark Robinson– give us their own renditions of these favorites, paying homage to Sinatra but not trying to imitate him or his style. Song stylists in their own right, they sometimes take turns within a song, sometimes perform solo, and sometimes surprise us with a duet or quartet, rendering much-loved tunes in beautiful, blended harmony. At first I wasn't sure I was going to like the harmony treatment– but the judicious arrangements and the blended voices are so pleasing the effect is a delightful enhancement of the tunes.
After some initial perkiness that smacks a bit too much of over-the-top musical theatre, the performers fall into the more relaxed, cool-jazz style of smooth standards, as if we are in a smoky cafe in Manhattan or L.A. Indeed, the Cinnabar stage area is transformed into a semblance of such a cafe (without the smoke), and the house includes small drink tables every few seats– presumably a concept engineered by director Jennifer King and scenic designer Wayne Hovey, to good effect.
The firs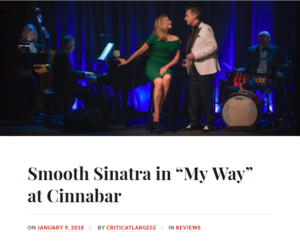 t act includes more lesser-known songs, and they're a lot of fun, and then ends with a nice nod to Sinatra's later career. Act two packs a wallop with more of the big blockbuster hits, given great arrangements appropriate to the numbers. Oddly enough, as you hear these contemporary performers knocking out a song, you feel somehow transported, as if hearing Sinatra's voice simultaneously in your head– being reminded of what a great song it was when Sinatra recorded it for posterity and not feeling in the least cheated. It's a strange kind of stereo magic, and totally works.
No review of the show would be complete without mentioning the trio of musicians playing backup– Cesar Cancino, who is also the show's music director, does a mean jazz piano; teamed with Jan Martinelli on bass and Randy Hood on drums. Seamless, unobtrusive and yet standout. Would love to hear them any time…
Set by Hovey and lighting by Peter Parish work well together, and provide opportunities for movement and isolation. Costuming by Ellen Howes is better in Act Two than Act One, but always suitable for the style of the show. Director King does a nice job keeping the show moving and varied, for visual interest and focus.
As I exited into the waning afternoon sunshine, I overheard one patron saying to her friend, "That was the best entertainment I've ever seen in my life." I'd wager the content, of those terrific songs and the context of Sinatra's career, had a lot to do with that remark– but the performers certainly brought it alive with verve and finesse, making for a thoroughly satisfying experience.
I hear it's selling out for its final weekend– don't delay.
— Jeanie Smith – TBA Critic at Large
Step into an era of glamour, sultry romance and electrifying glances from across the room. Cinnabar Theater has been transformed into an upscale night club, with rich textured walls blending into sapphire velvet surrounding a trio of piano, bass and drums. Arranged in cabaret style with tables — for a Jack on the Rocks or glass of wine to enjoy during the performance — the mood-lit intimacy is ideal for a memorable date to ring in the New Year.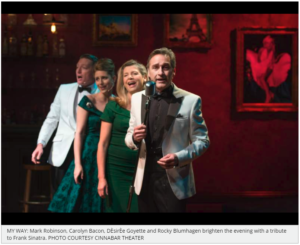 "My Way: A Musical Tribute to Frank Sinatra" was created by David Grapes and Todd Olson to capture his essence through song, walking a fine line between concert piece and theater. Director Jennifer King, Professor of Theater at Napa Valley College, joined the production after initial concept design and casting, which placed her in a difficult position of incorporating her vision without compromising the timeline. Her dream of a glittering Las Vegas lounge and the original grunge urban club with brick accents was balanced into a luxurious, simple set from Wayne Hovey and evening attire of dinner jackets and shimmering gowns by Ellen Howes.
Working with Olson's limited book, King chose to gather the actors in a living room to workshop the subtext underneath their characters, crafting subtle interactions and relationships that become an unspoken play-within-a-play that is fascinating to watch. Lyrics are conversations between the singers, who pause to toss out intriguing insights into Sinatra's exploits and musical career.
King strives for an immersive, textured piece that delves into the feelings evoked by Sinatra's artistry, rather than a linear plot. Covering over fifty songs throughout the evening, they are arranged into concept medleys, such as survivors, mature love affairs and the seasons. A grouping of city favorites, including "I Love Paris" and "L.A. is My Lady" is interrupted by an earnest tribute to "Chicago" by Man #2 (Mark Robinson), a native of the Windy City. The trio, led by Cesar Cancino, maintains the flow and pacing, offering sizzling jazz and haunting ballad accompaniment. Lighting design by Peter Q. Parish creates lazy summer afternoons or an eerie moonlit rendezvous through projections and color.
The cast was chosen for Sinatra's particular sound and rakish charm, drawn from Marin and San Francisco cabaret and opera singers. Easy-going Rocky Blumhagen (Man #1) is a natural fit for the relaxed, entertaining tone. Carolyn Bacon (Woman #2) captures the flirty, light-hearted songs, like "The Best Is Yet To Come" while Désirée Goyette (Woman #1) slides into languid, dreamy serenades. Mark Robinson (Man #2) is riveting in his ability to turn songs into comedy with well-timed, expressive reactions. "Should !?" becomes a genuine question of revealing his affection for Woman #2. The ensemble plays off each other with glorious harmony and a moving rendition of "It Was a Very Good Year" passing verses back and forth with elegant transitions, moving into a toe-tapping gospel style chorus for "That's Life."
Infused with poetic passion, Cinnabar's production is, as Sinatra would say, "the good life, full of fun."
— Alexia Chipman – Argus Courier