2013 Siletz Bay Music Festival – Season Dates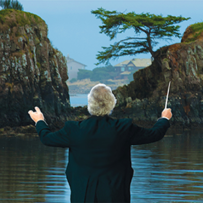 I am excited to once again be part of the  musical lineup for the Siletz Bay Music Festival in Lincoln City, Oregon. The 2013 Siletz Bay Music Festival Season runs June 12-23.
Since December 2012, Susannah Mars, Charlie Creasy and I have been at work on a new show: "Oh Those Gershwin Boys – George & His Lovely Wife Ira."  Jack Moore devised the show and along with Charlie is directing it for the festival. Our first rehearsal, at Charlie's studio in Palm Springs, kicked off the collaboration. What a joy it has been in the months since zipping up and down the coast for rehearsals. I am looking forward to having it on stage in June! The audience provides that "je ne sais cois" that really makes the magic happen!
What is the Siletz Bay Music Festival?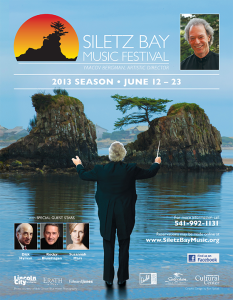 "The Siletz Bay Music Festival is dedicated to providing cultural enrichment through musical performances and education by bringing internationally renowned musicians to perform at the Oregon coast."
In recent years the Festival has featured performances under the masterful direction of Maestro Yaacov Bergman.
Maestro Bergman is Music Director of the Walla Walla Symphony, Music Director of the Portland Chamber Orchestra, and former Music Director of the Colorado Springs Symphony, the New York Heritage Chamber Orchestra, and the 92nd St. Y Symphonic Workshop Orchestra in New York City. He has conducted throughout the US and Canada as well as Japan, Austria, Israel and Denmark.
I've had the pleasure of working with Maestro Bergman on several occasions, including my Cole Porter Valentine's Day Concert in 2012; it is always an honor to work with him.
Great Idea for Fundraising, Benefit and Gala Entertainment
The life of this new Gershwin show, will extend beyond the Siletz Bay Music Festival… And may just be the perfect entertainment for YOUR next benefit. From grand galas to small-venue gatherings, entertainment is often the cornerstone of a successful fundraising event.
It is my personal mission to help people raise much needed funds for the causes near and dear to their hearts. To that end, I have collaborated with some of the best in the industry to develop several shows that can be scaled to fit your event. Or, if you prefer, we can discuss a completely customized show, tailored to your specific needs.
Either way, I encourage you to take a quick look at the Comden & Green, Cole Porter and Opera to Broadway show pages to see a few pieces presented at other fundraising events. Please be in touch. I am always happy to answer your questions and provide additional information.   – Rocky