My Way – Takes Stage to Sold Out Shows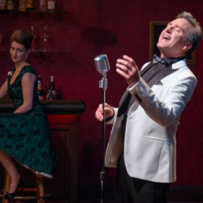 What a STUNNINGLY Beautiful show! On stage at Cinnabar Theater in Petaluma, CA through January 14, 2018.
My Way – A Musical Tribute to Frank Sinatra is a delightful show that includes some of Sinatra's best and most beloved songs. The show was created by David Grapes and Todd Olson – Stage Direction by Jennifer King – Musical Director César Cancino.
Man #1 – Rocky Blumhagen
Woman #1 – Desiree Goyette-Bogas
Man #2 – Mark Robinson
Woman #2 – Carolyn Bacon
"The show was just terrific… Hard to isolate stand-out moments as the whole piece sizzled. Your "I'll Be Seeing You" brought new depth to a familiar standard. I also enjoyed your casual but infectious interaction with the other singers – bringing such a variety of experiences to the material." – Tom Blank – Former Theatre Critic Anaheim Bulletin
A Look at Dress Rehearsal
PLEASE, click on an image and view these images full size – The cropped thumbnail images need some work and we'll get that fixed – in the meantime, you are welcome to click on the first image and page through the rest to see what all the fuss is about!

The Audience Has Spoken
It's one thing to open a show and another as you wait to hear what people have to say. It has been a pleasure to see folks from the Bay Area and beyond in the audience each night. While it looks as though we'll have Sold Out houses throughout the run, seats are still available. If you can make it, please CLICK HERE for helpful information on how to get to the theater. If you plan to stay the night, look for my pick on where to stay! So… what are folks saying?
"There is nothing more fun than a revue of well known music when it hits the mark! …through the lens of a director, it is the leadership, energy and style that make revue magic happen … that elevate the experience, lifting it off the charts and into the hearts of an eager crowd. Rocky, the producers of this little gem were lucky to find that leader in you… ol' blue eyes would tip his fedora to you for this awesome salute to his songbook!" – Mary Bettini – Director/Choreographer, New York – Retired Bay Area Theatre Educator

"Ellen and I saw the show tonight and your singing was sensational. I loved the swinging arrangements and the way you crafted the medleys. Your acting was terrific. On another note… I love your Cole Porter CD. Have played it dozens of times crossing the Golden Gate bridge from home to the UCSF Mission Bay campus!" – Nelson B. Schiller, MD – Cardiologist, UCSF
Read Additional Raves & Reviews
Check TICKET Availability
That Day the Libretto Arrived in the Mail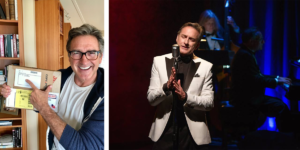 This all started back in mid July when I received word that I was cast in My Way, a tribute show in honor of Frank Sinatra's 100th Birthday. Once the libretto arrived, the work began.
Ah, memory work!
From September, on, this show has kept me busy! You would have found me studying aboard an 11 hour flight to Japan in October and often out at Land's End; that majestic, shoreline park in San Francisco. Land's End, in the Presidio, is one of my favorite places to work through the process of committing a show to memory. With close harmonies weaving out of everyone's solos and duets, this was bound to be an compelling piece of theater and challenging show to learn.
After working with Spencer's tracks on the Japan trip and doing all the memorization work I could muster, we had our first cast rehearsal right here at our apartment in San Francisco. Led by our musical director, César Cancino, we all took things in stride and focused on getting "off book" before the staged rehearsals began in earnest.
In December, we got on our feet in the theater, blocked the show, and began to really feel at home on the Cinnabar stage in Petaluma. We flew through dress rehearsal and opened on Friday, December 15, 2017. What a ride it has been!
My Way Brings it Full Circle
You never know how personally a show will touch someone. This story from UCSF Cardiologist, Nelson B. Schiller, MD, who was in the audience recently, tickles me!
"…when I was about three years old my father took me back stage during a Sinatra performance (a friend was pianist). According to family legend I began to run toward the stage and Sinatra grabbed me and put me in his lap."
Just imagine that! To have that experience at such a young age – Frank Sinatra was simply a man in the room and the stage… well, the stage was a magnet!

Click HERE for ticketing information and availability. Remember, we have a special New Year's Eve performance and party. I would love to see you there!

PHOTO CREDIT – Thank you to Jenny for these great photos. You make us look so good!