Rehearsals Ramping Up & Heading to Petaluma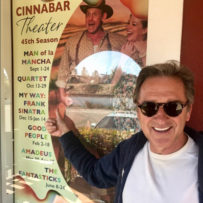 To Those Planning to See the Show – Please scroll DOWN for some notes on how to best get to the theater!
It's November 3, 2017 and we just had our first cast rehearsal for My Way – A Tribute to Frank Sinatra, here at our apartment in San Francisco. We are all in "memory mode" these days and trying to get off-book before the official rehearsals begin November 12th in Petaluma. I have to admit, I get a little kick out of the character description for the part I play in the show.
Man #1 – 40-60 yo. Dark, Italian look. Deep/rich, strong, velvety baritone. Needs to have incredible vocal instrument and feel for Sinatra's unusual phrasing and distinctive vocal style. Should dance or move extremely well. Tap dance skills big plus. Ideally, this actor projects the style and easy sophistication, the Sinatra trademark, without any sort of physical or vocal imitation. Must relate to audience and possess the charisma to bring them along on this musical journey into the world of "cool. No pressure here folks!
Coming to the Show?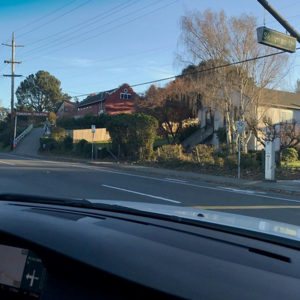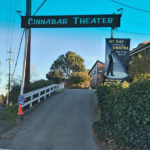 The approach to the Cinnabar Theater at 3333 N. Petaluma Blvd. N is a bit odd. You'll see this driveway with an upgrade under the Cinnabar sign, and yes indeed, you drive up the drive and the parking is above. NOTE – The theater is an old schoolhouse, so always good to bring a jacket. Plus it is so much colder in Petaluma than San Francisco!
We like the Hwy 101 exit north of the city, exit 476, Old Redwood Hwy. You'll then double back heading south to Petaluma and since Petaluma Blvd is a divided Highway, it is easy to exit up the Cinnabar driveway!
Rehearsals & Reserved Seats
We've all been focused on learning the tight harmonies that weave in and out of this phenomenal show. Musically, this is very exciting and visually – equally so. I took this candid photo of our Musical Director, César Cancino, as he worked that special combination of talent and magic he brings to rehearsals. The complexity of everyone's solos and duets is one very special part of what makes this such an interesting and delightful show.
A number of out of town friends have already reserved seats for the show's run – December 15th – Jan 14th at the Cinnabar Theater in Petaluma. To all the friends making the trip and coming from Palm Springs, Portland, and Salishan – Thank you! I am thrilled that you will be here and very much appreciate you coming all this way!
Do Stay the Weekend
Rich and I have done a little reconnaissance to find the PERFECT hotel for your stay.
Hotel Petaluma, at 205 Kentucky Street, sits right in heart of the Old City Center – a charming area of Petaluma. It is a beautifully restored hotel with 45 rooms I believe. Cinnabar Theater is just 2.2 miles away – a straight shot down Petaluma Blvd.
"Originally built in 1923, Hotel Petaluma has undergone complete renovations to honor the splendor and the architectural elements from the past, while delivering modern style, and efficiency to our guests. Hotel Petaluma features grand common areas and courtyards, event spaces, Barber Cellars wine tasting room and The Shuckery restaurant." Have a look at the photos!
Hotel Petaluma
205 Kentucky Street – Petaluma, CA, 94952
Phone (707) 559-3393
Email reservations@hotelpetaluma.com
Looking for other hotels, places to eat, or things to do in the area? I have a post that gathers a few things for you to consider… Have a Look!
"My Way" – The Highlights
I'd love for you to join all of us as we celebrate the music of Frank Sinatra, "the greatest pop vocalist of the 20th Century." The show includes so many favorites: All of Me, Fly Me to the Moon, I Get a Kick Out of You, I Only Have Eyes for You, I'll Be Seeing You, It Was a Very Good Year, and The Lady is a Tramp, to name but a few. I'm bound to see a few of you singing along in the audience! It is THAT kind of delightfully infectious show.
Find all you need to know re Show Details & Reservation info HERE
See you in Petaluma!
~ Rocky