A Cole Porter Valentine to Remember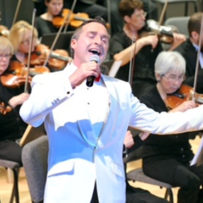 Valentine's Day 2012 will never be forgotten, not just because I had dreamed of singing in Cordiner Hall for forty years but because I had no voice leading up to the concert!
I first heard vocalist John Gary perform a concert at the newly built Cordiner Hall in the early 1970's.  I remember exactly where I was sitting in the 1400 seat auditorium on the Whitman College Campus in Walla Walla, WA, when I said to myself, "Someday I am going to come back here and sing a concert with the Walla Walla Symphony."
My uncle Fred Etling had played bassoon with the Symphony since the 1950's and it has been considered one of the best symphonies on the west coast and currently in its 106th season!  I was thrilled when Maestro Yaacov Bergman asked me to sing my Cole Porter show as part of his 25th anniversary gala season.
The Back-story Leading up to the Cole Porter Concert
We contracted Brett Paschal on drums and percussion and Paul Mazzio on trumpet and Rick Modlin on piano to make the trip from Portland to round out a solid trio for the arrangements.  Lots of publicity was in play as local boy comes home to sing at Cordiner Hall with his hometown symphony.
Flying to San Miguel de Allende for Christmas 2011 I picked up a cold from the flight.  That cold combined with on going GERD issues (reflux disease) resulted in the complete loss of my voice on January 26th.  My vocal cords were so burned and swollen; I couldn't even utter a sound.  I was absolutely mute!
The Show Must Go On
With the assistance of a Palo Alto ENT and massive doses of steroids my voice returned in just the nick of time for the performance.  In preparation, I had never rehearsed silently but for this February 14th, 2012 performance, the three weeks leading up to the concert, I rehearsed the music and dialogue without uttering a sound.
I first sang at a sound check on February 12th and then prayed that I would have my full range to sing the show on the 14th.  I remember as the symphony was playing a Cole Porter overture, I was warming up in the basement of Cordiner Hall.  As I was climbing the stairs to head back stage for my entrance, I decided to try a falsetto note, up until then, nothing had come out, I tried it, and a clear high tone was there.  I knew at that point I was home free!
The Cole Porter Valentine's Day Concert is a Success
The Symphony was marvelous, the nearly sold out crowd, so attentive and responsive and Ron's arrangements/orchestrations never sounded better under the direction of Maestro Bergman.  We both felt it was a near flawless show with no gaffes.  It was smooth, fun and romantic.  A perfect offering for Valentine's Day!
And my Mom who had been quite ill from "Cat Scratch Fever" (Yes, there is such a disease!),  left her rehab to be there in the front row.   My Dad had passed away four months before and I know he was there in spirit, helping me with those elusive high notes.
And Life Continues
Three weeks after the concert I was at OHSU in surgery for a Nissen Fundoplication Wrap to heal the damage of the GERD an make sure my voice will never again be in such a precarious situation! Yes, Valentine's Day 2012 …I will Always Remember!